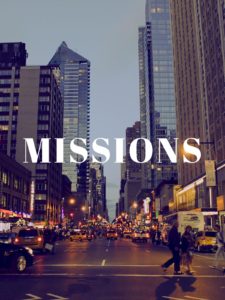 And he said to them, "Go into all the world and proclaim the gospel to the whole creation. (Mark 16:15 ESV)
At Grace Community Chapel, missions is a vital extension of our body. We believe that Christ's command to proclaim the gospel to all creation is accomplished by missionaries, sent and supported by the local church. We have missionaries in local areas of New England, missionaries based in America who reach out throughout the world, and missionaries located in other continents. As a church, we pray for and financially support missionaries, taking an great interest in their global ministries, trusting that God will call sons and daughters from every tribe and tongue and nation.
GCC Supported Missionaries
Tommie and Allison Van Der Walt – Missionaries to India
The Van Der Walt's sending church is Brackenhurst Baptist church in South Africa and their church planting ministry is in Nashik India.
They are also involved in translating Christian literature for pastors into the Hindi language and are currently working on a major project to complete a Hindi Study Bible using extensive notes from the ESV Study Bible. They are involved in the oversight and distribution of this work, and they also conduct teaching meetings with Indian pastors in need of theological training.
http://sola5.org/news-form-brackenhusrt-baptist-church/
Dan and Sue Bisbee – Missionaries to Senegal
The Bisbee family's ministry is to the Wolof people of Senegal, West Africa. They have been ministering in the city of Dakar for over twenty years. Their goal is to see families come to Christ, planting churches in the home. Dan also teaches an English class and Sue is involved in a ministry at a local woman's prison.
http://www.fim.org/dan-and-sue-bisbee-africa-2/
Francisco de Souza – Director for Missionary Personnel at (FIM)
Dr. de Souza specializes in assisting churches. He helps them find, prepare, deploy, and then support and maintain their missionary in effective service. He is available to churches as well as Bible schools and seminaries for advancement of missions and evangelism. He also has a graduate degree in counseling and brings not only experience, but training, to his role as Director for Missionary Personnel for Fellowship International Missions. Francisco's goal is to model true biblical burden-bearing and then to encourage and train others to do the same.
http://www.fim.org/
Chaplain Daniel Croce – New Hope Correctional Ministry
The purpose of New Hope Correctional Ministry is:
• To provide comprehensive, non-denominational Chaplain services to a correctional facility(s) by providing spiritual care to the resident inmates, staff, public officials, and to the community that the facility serves.
• To provide the good news of salvation through the Gospel of Jesus Christ, to those being served and to instruct and disciple these resident inmates to a new life of hope and service.
• To provide practical assistance, care and spiritual guidance to selected resident inmates upon release.
• To provide any and all desired support to selected released inmates and their families as determined by the Board of Directors in line with the charitable purposes of the corporation.
http://newhopecm.org/
Bethel China – Love is Blind
In 2002, Guillaume and Delphine Gauvain moved to Beijing, China. After volunteering in orphanages, they decided to open a home for children with visual impairments, and Bethel China was born.
Bethel is home to 70 visually impaired orphans. It is a safe and stimulating environment in which orphans of all ages and abilities can grow, laugh and experience a full, rich life. "Bethel Love is Blind" is the banner under which Bethel runs all its foster care, education and therapy programs. Bethel Sites consist of five projects: the Doudian campus, the Beijing City Life project, the Zhengzhou orphanage, the Jiaozuo orphanage and the Nanjing orphanage projects. Combined, all five care sites offer services for up to 70 children.
http://www.bethelchina.org/